Top 10 Online Roulette Tips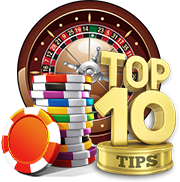 Online roulette has been around for years but everyone can use a few good tips to help them along.
If you are playing roulette in South Africa in 2014, take advantage of a few quick pointers and make your roulette journey a little more profitable.
Once you've read our top tips for enjoying great roulette online, check our expert reviews and sign up for a real-money account today.
1 - Learn the Betting Rules
Just as at a land-based casino, there is an etiquette associated with playing online roulette for cash. When playing online you need to know where to place bets, how to choose stakes, and what to do if you suspect any foul play.
Before you sign up to a casino online, try out some games for free before committing any Rand. This way you will be completely comfortable in making multiple bets online, and will waste less time asking customer support for advice or questioning the results.
2 - Make Sure Your Computer Set-Up Is In Good Order
There's so much more to playing roulette online than firing up the laptop and placing some ZAR on black or red: first you need to make sure your PC or Mac can handle the action.
If you have a Mac, make sure your favourite SA casino offers a Mac client or good no-download games. If you have an Android tablet or smartphone, make sure it's powerful enough to run the mobile casino you want. And if you are opting for no-download roulette on the move, make sure you have a decent Wi-Fi connection where you are.
3 - Get An Online Cheat Sheet
In a land-based casino it's hard to keep track of the various bets and odds that feature in a typical game of roulette.
There's no such problem online, however. If you're sat at your PC in the study or with a tablet in front of your TV, you can browse the web while playing or have an endless supply of roulette info at your fingertips.
An online 'cheat sheet' (available widely on the Internet) features the layouts of the tables with all the bets explained, a list of roulette odds so you can see where your money should go, plus a table of roulette payouts, from the even-money Red & Black bets to the straight-up 35/1 payouts on single numbers. Print out a cheat sheet and keep it handy by your computer for easy reference.
4 - Try Out a Gambling System
There are as many discredited betting systems for South African roulette as there are betting systems. However, at very low stakes, or at the free roulette games, some are still worth a try.
The simplest system is the Martingale, which requires you to double your bets every time you lose a spin of the wheel. Once you've won, you bank the winnings and revert your bets back to the original wager amount.
The problem with the Martingale is that it only is profitable over the long-term, and that may prove too damaging to a player's bankroll before that winning spin comes in. You can see our dedicated pages at OnlineRoulette.co.za for some examples of online roulette systems to try.
5 - Stick to the Even-Money, Outside Bets
Watching those single-number bets come in is great. You may have dumped a few Rand on 32 Red, watched the number come in, and then seen your bankroll swollen by a 35/1 payout.
But long-term, the best bet for sensible SA players is to stick to the safer outside bets. Red/Black, Odd/Even, and the 1-18/19-36 portions pay out 1/1, or even-money, and are much healthier for your bankroll.
6 - Understand the House Edge
To appreciate the house edge in roulette, you need to understand the difference between the two classic variations: European and American Roulette.
When you hit a single number on a European roulette table, you'll get paid out 35/1 on your money. However, there are 37 spots on a table (36 numbers plus the single zero), so the TRUE odds are slightly more. The discrepancy is the 'house edge' (2.7 percent in European Roulette).
In American Roulette (which carries a second, green 00 slot) the payouts are the same but the house edge is higher (5.26 percent). While American Roulette has some added action with the second green slot, the increased house edge means that long-term you should be sticking to European Roulette.
Whichever variation you choose, always be aware of the different house edge that applies.
7 - Test Out Some New Variations
In an average brick 'n' mortar casino you'll be lucky to find a table or two of American or European Roulette, or both if you're lucky. Online, however, there are no restrictions on floor space, table stakes or technology; you can play European Roulette with a few Rand, multiple tables of American Roulette at the same time, or exciting new Live Dealer games where you play on your computer against a real-life croupier who's spinning a real wheel in a casino thousands of miles away.
With powerful software, online casinos can also offer online exclusives like Multi-Ball roulette, which lets you bet on more than one ball on a single wheel or Premier Edition which features four betting colours as opposed to the usual two. You can even find strange new games like Spingo which combines the excitement of roulette with Lotto and Bingo.
8 - Get a Good Welcome Bonus
The best thing about playing roulette on the net is that you can take advantage of great bonus offers from online casinos.
With so much competition around online, casinos are fighting over your custom and will offer healthy bonuses when you join. These 'deposit match' bonuses will often promise 100 or 200 percent of your initial deposit, from $50 to $1,000. Shop around and get a good deal but always make sure you understand the playing requirements in order to trigger the bonus cash.
9 - Practise Sensible Bankroll Management
It doesn't matter what variation of online roulette you're playing, or what stakes you are playing at: if you don't employ some kind of bankroll management you'll end up broke.
Choose a bankroll before you start playing. Or better yet, have a separate bank account just for gambling. Also, make sure you stick to a strict proportion of your roll for each bet. Never play at stakes you can't afford and if you go broke, take a break and have a rest from roulette until you're in the right frame of mind to come back.
10 - Read Our Top Reviews
Possibly the best bit of advice we can give our South African readers is to read our top reviews on these pages. At OnlineRoulette.co.za we find great roulette websites with the best software, range of games, security and customer support around. We save SA players like you hours of hunting by compiling our own lists and ratings. Now you can get straight to the action and win more!