Online Roulette Variations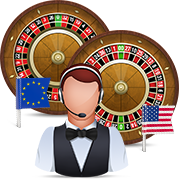 In a big South African casino in 2021 you may find several tables of European and a few of American Roulette. But not much else.
And while most real-money gamblers in SA are comfortable with the two classic roulette variants, pretty soon you'll want to try something different.
That's why online roulette is so exciting. In 2021, you can play all your favourite American and European classics but also a range of variants you will only find on the web.
Top gambling casinos on the net should offer real money versions of these intriguing new games that accept Rands, and by following our great reviews you can find a casino that's right for you.
Enjoy plenty of top rated online roulette variations in 2021 and reap the benefits:
Play Multi-Ball, Multi-Table or Live Dealer
Try out variations with play money first
Earn great welcome bonuses when you sign up
So, what kinds of interesting roulette variants can you expect to find on the web? Let's take a look at some typical games you might find at a South Africa betting website in 2021.
American Roulette
The classic game of Vegas casinos is also one of the most popular on the net. American Roulette features the familiar table layout of a typical live casino game, with numbers 1-36, Odd/Even, and all the sections and columns. Single number bets pay out 35/1, the columns 2/1 and the Red/Black or Odd/Even sections even money.
The major addition in an American Roulette game is the double zero slot (00) which appears alongside the single zero. While providing gamblers with another 'single' number to bet on, it also increases the house edge significantly (to about 5.26 percent). Conventional wisdom, therefore, says you shouldn't play American roulette online at all, but how would that be any fun?
European Roulette
Virtually identical to the American version, European Roulette can be found at every good casino online. The biggest difference with European is that you only find a single green slot – the single zero (0) – which results in the casino's house edge dropping to 2.7 percent. It goes without saying, therefore, that the smart option is to play European Roulette when betting online. Other than that, payouts are the same as American, with columns paying out 2/1 your money and so on.
Multi-Wheel Roulette
The beauty of Internet casinos in ZA is that you aren't restricted to just playing one wheel at a time. With Multi-Wheel you can bet the same set of numbers across up to seven or eight wheels simultaneously. Three times the betting, three times the gambling fun! If you're planning on playing through a welcome bonus make sure your favourite online casinos allow Multi-Wheel to contribute towards your bonus activation.
Multi-Ball Roulette
'One roulette, one ball' has been the mantra of land-based casinos for centuries. The Internet says, 'pah' to all that by introducing a single wheel game with up to three balls spinning round it at the same time. Cover more numbers, spread your bets. Now you can gun for three numbers instead of one per spin.
Spingo
Spingo works on a roulette wheel that features just 10 numbers and a range of colours. Numbers are decided by bingo balls that are selected by the machine and fall into place on the wheel's slots.
French Roulette
What's safer than playing European Roulette? Playing European Roulette with lots of insurance, that's what. French Roulette features the classic 'single zero' table but comes with extra bets called 'En Prison' and 'La Partage'. An insurance bet for a green zero coming up, the La Partage rule lets you win half your stake back. Similarly, if zero comes up and you've bet on Even or Odd, your bet is placed 'en prison' (in jail) and you have an extra chance to win your bet back if your next wager wins.
Roulette Royale
Not found at too many gaming sites, Roulette Royale is nonetheless a quick, exciting game to play. Played like classic forms of roulette, Royale features a top ZAR progressive jackpot which can be hit if you land the same single number several times in a row.
Live Dealer
Missing a good old game of roulette in a real-life casino but don't want to leave the comfort of your front room? That's where Live Dealer comes in. With Live Dealer you get to place bets on a real roulette table overseen by a real-life croupier. They spin the wheel themselves, call the bets and chat to you in real-time via a webcam and live stream. All you need to do is watch the little ball fall agonisingly into your chosen spot! Remember, Live Dealer isn't quite as fast as traditional online roulette so if you're racing to play through a deposit bonus or using a system, it might not be for you.
Premier Roulette Diamond Edition
Why stick to just red and black when you can bet on four colours at once? That's what's offered in Premier Roulette Diamond Edition (or PRDE for short). Red and Black are present, as are the numbers 1 to 36, but also purple and blue spots and even the American Roulette double zero green spot.
Discover the Best SA Roulette Sites Online
If you're keen to try a top online roulette variation, there are dozens of great websites around that offer a wide range of games and a range of stakes.
We try out many rooms' games and software in order to compile our ratings. We check to see if casinos have the full range of Premier Edition, Live Dealer and Multi-ball, but also check their deposit options, their real-cash withdrawal times, and their level of security.
Pick a good site today and try out one of the weird and wacky variants today. And when you do, you can even take advantage of an amazing welcome bonus at the same time.